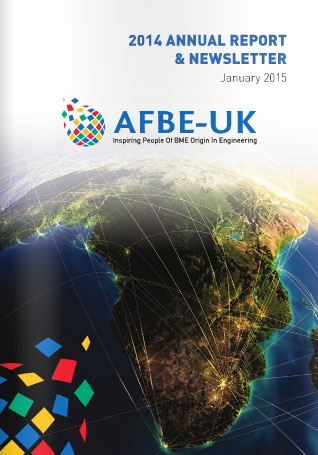 The AFBE-UK 2014 Report and Newsletter can be viewed and downloaded using this link.
It contains most of the articles published at the 2014 Gala and a wee bit more from AFBE-UK London.
Features include:
Page 3: Mentors feedback from Martin Radley Director, ARUP and Chartered Engineer Yinka Bankole on the Mentoring Programme.
Page 5: Article by Dr Ollie Folayan on AFBE-UK Scotland's Growth in addition to details of the successful Gala event which attracted 170 guests including industry leaders and major stakeholders within the engineering community.
Page 7: A very interesting article on Skills, Clocks and a Huge Grasshopper by Jide Okwujiako from AFBE Scotland Committee with Page 8 featuring an initiative called Croydon Construkt by Inspiring role model and Civil Engineer Sakthy Selvakumaran.
Page 17: Tips for Job Applicants by Uche Onyia and a Member Profile on Ronye Egborge).
Page 19: Features Chi Onwurah MP and Jeanette Yuile of Shell International at the Transition Programme. To find out about Transition Check out this video.
There is something in this newsletter for everyone. We hope you enjoy reading. Please send your comments or articles for the next newsletter to us at info@afbe.org.uk