The 2015 Report and Newsletter is now out. The newsletter includes articles written by our members in London and Scotland with something in it for everyone. Click here to view it.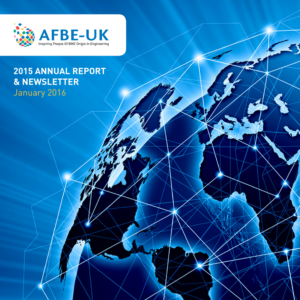 The 2015 newsletter features:
– Page 06: AFBE-UK Scotland in 2015 by Dr Ollie Folayan
– Page 13: Time to Spread the Word by Yinka Bankole.
– Page 09: NextGen programme by Jide Okwujiako. Check out the video.
– Page 11: Transitions – Building Pathways from Today into Bright futures by Emma Opara
– Page 14: Find out more about AFBE-UK and how to get involved
– Page 16: AFBE-UK Member of the Year
– Page 18 and 20 contain: Complementary articles on Making Diversity part of Company Culture and Effective Diversity Implementation by Reneth McKenzie- Schoetz and Dr Nike Folayan
It also features an advert for the SPARK contest open to current and former students of Franco-British schools of higher education. Applications close on 8th February 2016.
If you are a subscribed member of AFBE-UK Scotland, we are able to send you a free paper copy of this newsletter. Please email us via info@afbe.org.uk to order your copy.