Check out this infographic highlighting the success of our programmes in Scotland to date and the extract below from a related article on the Evening Express.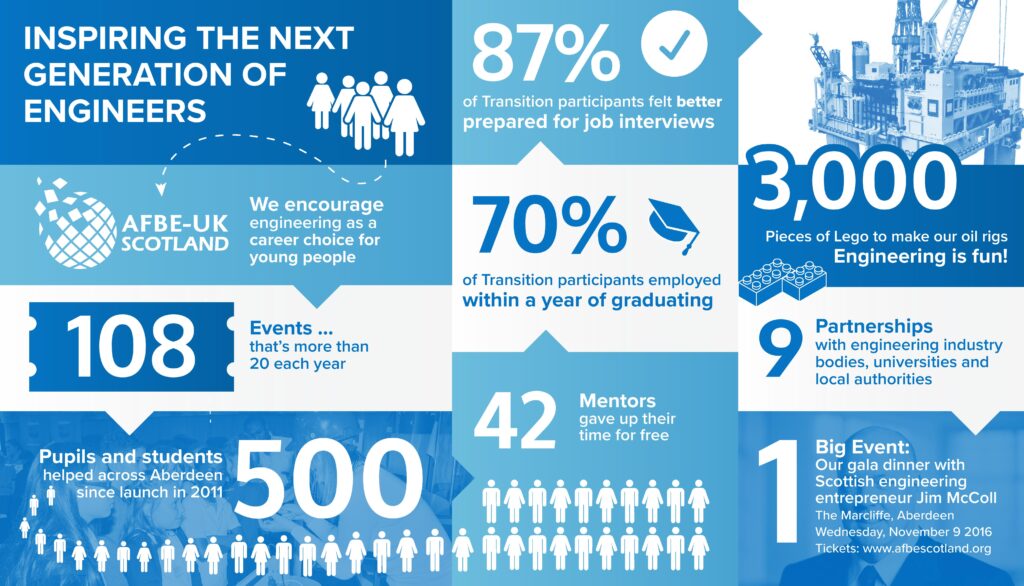 AFBE-UK Scotland has assisted graduates in gaining employment in the engineering industry just six months after completing their degrees, a survey has revealed.
It showed participants of Transition between 2011 and 2016 have benefited from the experience, finding it effective in supporting them to secureemployment.
Dr Ollie Folayan, chair of AFBE-UK Scotland, said: "These results are truly fantastic and demonstrate the impact our work has on our student and graduate members.
"AFBE-UK Scotland was set up in 2011 with the aim of promoting engineering as a career choice and to support those going through the educational process, ensuring they have the necessary tools to be successful within the industry.
"Our aims have not changed, and today groups like ours are even more necessary to ensure that skilled individuals are not lost to other industries as the North-east goes through difficult times as a result of the low oil and gas price.
"The outcome of our Transition survey proves that our group of committed professionals can provide knowledge and guidance to those young people just starting out in the industry and I'd like to encourage as many young people as possible to get in touch, come along and get involved with AFBE-UK Scotland."
The not-for-profit firm encourages young people, particularly those of black and minority ethnic origin, to pursue a career in engineering, including the oil and gas industry.
The group recently conducted research into its Transition initiative assessing the programme to ensuring participants secure an industry job post-graduation.
A total of 97.5% reported they found guidance and knowledge given at Transition helpful, while 87% felt they were better prepared for interviews as a result of theirattendance at events.
Meanwhile 70% secured a job relevant to their academic programme degree within 12 months of completing their degree, with 50% of those managing to find employment within the first six months.
Source: Evening Express