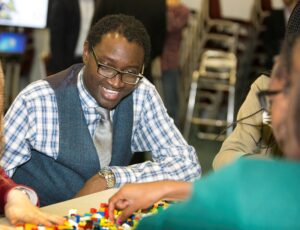 On the 9th of November 2016 about 140 oil and gas professionals, students and representatives from both public and private sectors gathered at Aberdeen's 5-star Marcliffe Hotel to mark AFBE-UK Scotland's 5th Anniversary. The Scotland project began on the 4th of November 2011 and the impact of the team has been impressive, most epitomised by the increasing media interest, including a publication from US based energy magazine Rigzone, our increased followership and a prestigious award won earlier this year. Bravo Team Scotland!
At the Gala dinner the AFBE-UK Scotland member of the year 2016 award went to Jide Okwujiako, who spearheaded the successful NextGen programme. Chi Felly Njoku, a diligent AFBE-UK student member who recently earned an MSc with distinction in Subsea Engineering, and came top of her class at the University of Aberdeen, was named Transition Student of the Year and the Diversity Champion award was received by Azzam Younes, Acting Chair of Institution of Chemical Engineers (IChemE) Aberdeen Members Group.
In recognition of their efforts to inspire the next generation of engineers and scientists, Quaighs were presented to Shell's African Network who hosted the Transition programme in October 2016 and to Aberdeen City Council, Chevron Upstream Europe and Total Exploration and Production UK (TEP-UK), who had worked with AFBE-UK Scotland throughout 2016.  AFBE-UK Scotland was later invited to the head office on Crawpeel Road in Aberdeen Altens to present the same award to TEP-UK's Head of Diversity, Lorraine Smith.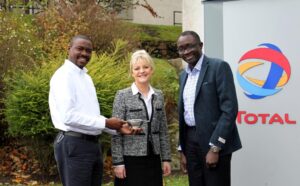 This event which many found motivational was the culmination of a year in which the Aberdeen-based team had successfully run about 22 programmes; it was also AFBE-UK's third Gala dinner. These Gala events are more than just a big soirée; they present a fantastic opportunity to learn about the big issues that affect our careers from industry's best.  Back in 2012 when we held our first Gala Scotland's Energy Future and the green economy was foremost on our minds, fast forward to 2016 however, and  it has been all about survival. AFBE-UK Scotland therefore turned to Scottish entrepreneur, Jim McColl OBE, for wisdom and insight to face the challenges ahead. In his very calm and understated manner, McColl who got into engineering through a technical apprenticeship scheme shared his amazing and inspiring story of success; a story which he said really only leaned towards business because of a house he wanted to buy. Jim's core message to the diverse Aberdeen audience was to aim high, do the necessary ground work and just go for it! Mr McColl praised the work AFBE-UK Scotland has done to get young people into industry. In his words, "AFBE-UK Scotland is doing an amazing job".
More than people think…
To any who asks, "What is AFBE-UK really about?" the answer is quite simple – to get more young people into engineering. Reports by Engineering UK in 2015 suggested that engineering employers in the UK could generate an additional £27 billion per year from 2022.  Given the summation in the same report that the single biggest obstacle to achieving this objective lies with education, it is easy to see why AFBE-UK's work is absolutely vital. Ever since AFBE-UK was set up in Scotland, it had always been our aim to add our voice to many others calling for increased involvement in STEM amongst young people of all backgrounds; it however took some time to for the AFBE-UK Scotland vision to take root in the STEM scene here.
As recently as 2014, STEM was no more than a bullet point on an AFBE-UK Scotland PowerPoint slide, since 2015 however; we have reached over 200 young people under the age of 18 in schools in Aberdeen and I could not be more excited about how many young people may take up a career in engineering due partly to our influence. It's easy to think in a city like Aberdeen with its industry presence, that most young people already know about engineering but I remember a colleague's teenage son saying to me after one of our exhibitions that 'there's more to engineering than people think'. Ideas about what a career in engineering entails and who can or cannot be an engineer therefore still need to be challenged even among young people whose parents are engineers. In 2016, the NextGen programme helped capture the imagination and interest of over 200 girls and boys in engineering and science. The schools and the city council have since been effusive with appreciation. One of the schools we visited, Gilcomstoun School, was awarded the Quality Mark Gold Award and has written to thank AFBE-UK Scotland for our support in promoting science to their learners.
Beyond gender…
A recent review by the Royal Academy of Engineering, the findings of which were reiterated by the Guardian's Science Correspondent Hannah Devlin in December 2016 highlighted the stark imbalance in the outcome of young people from black and minority ethnic origin in engineering compared to their counterparts.  The report also pointed out that gender diversity vital as it is has often dominated the diversity agenda and that not enough has been invested in encouraging more young people from BME backgrounds to take up engineering. Reports like this reaffirm the importance of what we do and it has been encouraging this year perhaps more than any other to our work being acknowledged by industry's most respected bodies. Earlier this year for example, the Royal Academy of Engineering highlighted the AFBE-UK's role in the UK STEM Education Landscape report which lists AFBE-UK as one of six key organisations that address diversity. AFBE-UK has worked for over nine years nationwide with real results and is well-placed to play a leading role in the campaign to creating a more ethnically diverse engineering workforce.
Industry ready
The Institution of Engineering and Technology (IET) 2015 Skills and Demand in Industry review reported that 53% of employers in the engineering sector believe that the quality of graduates employed fell short of the standard expected. In a paper presented at International Symposium on Engineering Education (ISEE 2016) AFBE-UK introduced the Transition programme which began before it became a common idea, explaining its key aspects; employability Seminars, real projects seminars and courses and shadow learning based on actual projects. We also showed the audience of academics the findings of an online survey carried out this year based on the work carried out here in Aberdeen. The survey showed that at least 50% of respondents had managed to secure an engineering job within six months of graduating, that this percentage rose to 70% twelve months after graduating and that over 78% of students now in work who had been through the programme believe the lesson learned have proved vital in their careers. It was also a real pleasure to see this programme which was 'made in Scotland' take off so successfully in London. Congratulations are indeed in order for Dr Nike Folayan and the team in London for two successfully-run Transition programmes.
2017…
The team took a short break after the Gala and then began to plan the 2017 programme. We are thankful to the Aberdeen City Council and companies like TOTAL E& P UK who have worked with AFBE-UK Scotland to select three primary and two secondary schools for the NextGen campaign in 2017. If you or your company would like to get involved please send an email to ollie.folayan@afbe.org.uk. We are keen to welcome you. Our first Transition Employability workshop of 2017 will run in partnership with the Society of Petroleum Engineers (SPE) on the 18TH of February 2017 at the A21 Taylor Building, University of Aberdeen.
Real Projects Coordinator Kasi Usani will kick off the 2017 Series on the 26th of January 2017 at the University of Aberdeen with a talk on Fire and Explosions. Seminars on Offshore Wind, Financial Investments, Contracts, Project Management, Subsea Controls, Drilling and much more will run in 2017.
In March, AFBE-UK Scotland will host Professor Paul de Leeuw, Director of Robert Gordon University's Oil and Gas Institute. De Leeuw will speak on 'Brexit and the Oil Economy' on the March 30th 2017. This has been timed to coincide with the anticipated triggering of Article 50 and we are very much looking forward to it.
Thank you for your help in 2016. Bring on 2017!
#bepartofsomethinggreat
Dr Ollie Folayan CEng MIChemE