2017 has been a great year for AFBE-UK as a whole and Scotland has very much been a part of it. AFBE-UK has always worked at grass roots level, seemingly under the radar promoting engineering to young people but it's fair to say that 2017 brought more open recognition from reputable institutions, many with which we had collaborated for years.
Our first event was a talk on Fire and Explosions delivered by AFBE-UK's 2017 Member of the year, Kasi Usani. The Real Projects series began in 2014 and the objective was to mentor our mostly student audience by giving them a realistic view of the industry and by keeping them abreast of industry news and Kasi's presentation set the tone for the rest of the year.  This objective was best epitomised in March 2017 when an industry expert highlighted the key Brexit issues facing the oil and gas sector at our Real Projects event. In a finely balanced talk, Prof Paul De Leeuw discussed the potential effects of the EU Referendum on the Energy Industry.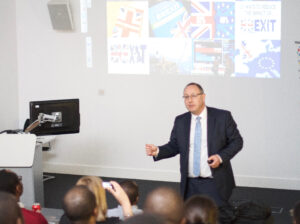 More than 70 people attended the event titled Brexit and the Oil Economy held at Robert Gordon University (RGU). De Leeuw, director of RGU's Oil and Gas Institute, highlighted the resilience demonstrated by the industry to overcome challenges in the past and pinpointed three key prospective issues for the industry: the potential lack of clear trade agreements within the two-year Brexit deadline, the possibility of extra tariffs on exports and the challenge of finding skilled personnel. However, he also anticipated that changes to regulatory procedures will be modest and that little would change on taxation as a result of Brexit as the EU has no remit over the UK's fiscal regime for the industry.
Prof Paul De Leeuw also said  "The oil and gas industry is an adaptable, talented and resilient industry but, make no mistake, there are challenges on the horizon and events like the [Real Projects Brexit Seminar] help to create a better shared understanding of what lies ahead."
There were other great seminars such as the seminars on 'Investing the right way' by Daniel Chew, 'A Critical Analysis Regulations and Regulatory Alternatives using the Piper Alpha and Macondo disasters as case studies' delivered by PhD Law Student Eddy Wifa and an eye opening narrative of a project led by Ugo Uzu Schlumberger's Europe D&M manager which involved    drilling one of the most complex, extended reach High Pressure High Temperature (HPHT) wells in the world! The talks were informative and inspiring.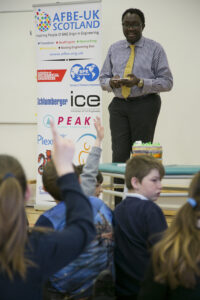 The NextGen programme which aims to encourage 9-18 year olds to take up engineering as a career reached over 250 young people in Aberdeen. The team visited Seaton School, Bramble Brae and Gilcomstoun School and seeing the enthusiasm on the faces of pupils and their teachers in all of the schools we visited this year made it all worth it.  Our most recent visit to Kincorth Academy was covered by the Press and Journal.    Earlier in the year, AFBE-UK Scotland's work had been highlighted on the Aberdeen City Council's portal for sharing good STEM practice.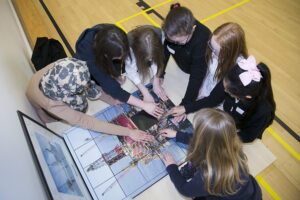 After attending our NextGen event in April 2017 Catriona Walker, Education Support Officer, Aberdeen City Council said," I'm so glad NextGen was successful again this year. I thoroughly enjoyed visiting Bramble Brae to see your engineers in action and it was very obvious how focused the pupils were with the activities and also how much fun they were having. You and your engineers are an inspiration to both teachers and pupils."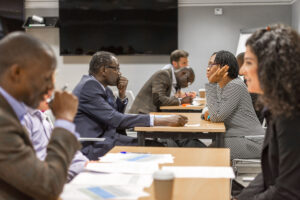 2017 saw the continuation of our Transition programme which has helped many students to find work. Two workshops were held in 2017; first in February at the University of Aberdeen with Px Ltd. Senior Project Manager Danny Kearns sharing his Transition experience with students and another held in October at the Shell's Woodbank house in collaboration with the Shell African Network. At this Transition Event, I had the privilege of meeting a mother and son both engineering students attending the workshop at Woodbank; a first for Transition!
Over the last year, AFBE-UK Scotland received many encouraging messages from attendees mostly from the class of 2016 who have secured jobs at great companies such as Shell, PWc, Arup and other highly reputable companies. These messages really just encourage us to keep going and so we shall in 2018
In 2018 we plan to hold very engaging seminars on some hot topics including interview preparation, the future of the oil industry, digitisation of oil and gas upstream, Brexit and the oil economy and the internet of things. Please let us if you are interested in giving a talk. Our first Real Projects Event will be a talk titled "Competitive Interview Preparation" delivered by Charles Adoga, a Senior Petroleum Engineer at TAQA held on 25th of January 2018. This will be followed by a talk titled, "The future of Oil" by Cranfield University Visiting Lecturer Chet Biliyok.
Our schools outreach will also continue in 2018 and will include a return to Kincorth Academy in May. Transition dates are 17th February 2018 and October 13th 2018 and we welcome volunteers from all sectors of the energy industry. Finally our biennial Gala (normally our best attended event) returns again in 2018. Details of this event will be provided in due course.
If you would like to get involved in any of the programmes we will be organising in 2018. Please get in touch with us afbescotland@gmail.com. We look forward to hearing from you.
In the meantime let me take this opportunity to wish you and your family a happy and prosperous 2018 and hopefully one in which you continue to play your part in inspiring the next generation of engineers!
Regards,
Dr Ollie Folayan CEng MIChemE
AFBE-UK Scotland Chair