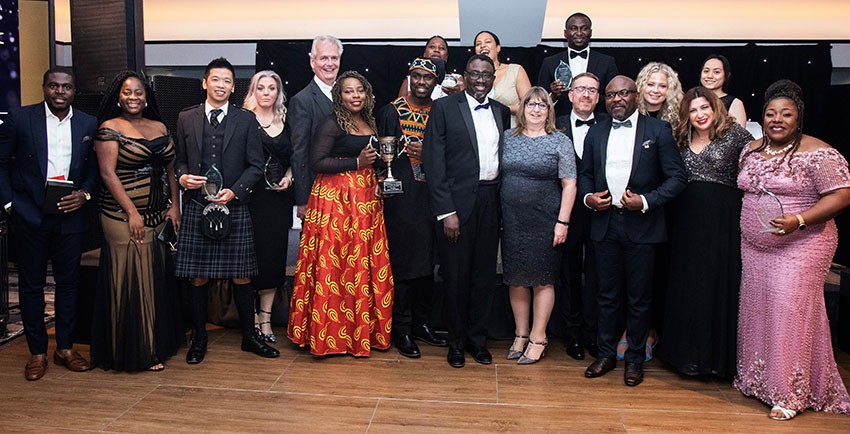 Diversity and inclusion successes in the energy and engineering sectors were celebrated at the AFBE-UK Scotland awards ceremony in Aberdeen last night. (Thursday, October 21, 2021)
An evening of inspiration, celebration, networking and multicultural entertainment took place at The Marcliffe Hotel and Spa near Aberdeen, with Aberdeen Lord Provost Barney Crockett, industry leaders, professionals and students in attendance.
IMRANDD and Baker Hughes both won Company of the Year, while Helen West, of Thames Water, won the Outstanding Mentor of the Year Award.
Lydia Balogun-Wilson, of BP, landed the BME (black minority ethnic) Leader of the Year, which was presented by Air Marshal Ian Gale, of the RAF.
Vanessa Burton, of Mott MacDonald and Thaddeus Anim-Somuah, of Croda, were joint winners of the Young BME Professional of the Year award.
There was also a Special Appreciation Award for Reneth McKenzie-Schoetz for her services to diversity and inclusion. Reneth has led the AFBE-UK STEM programme Making Engineering Hot for the past 12 years. The programme has benefitted more than 6,000 pupils and helped more than 60 students gain internship experience.
Dr Ollie Folayan, chair of AFBE-UK Scotland which is celebrating its 10th anniversary this year, said: "The awards event was a huge success – a real celebration of achievements during unprecedented times. We are delighted to have been able to recognise diversity and inclusion successes for under-represented groups in the energy and engineering sectors."
"All of the award winners and those shortlisted absolutely deserve our appreciation. A great night was had by all and we look forward to our next awards event."
The event was hosted by Ollie with award-winning radio and TV presenter Lady Tolu as compere. The night also included a dance performance from A.K.O and Cameron Dance Group, while AiiTee and DJ Havana provided the entertainment for the evening.
Aberdeen-based AFBE-UK Scotland supports all young people, particularly those from black and minority ethnic (BME) backgrounds, with career aspirations in science, technology, engineering and mathematics (STEM).
Over the years it has worked with thousands of pupils, students and graduates through online seminars and face-to-face events in both the north-east and Edinburgh. The social enterprise is part of AFBE-UK, which is based in London and formed in 2007 with the Scottish branch launching four years later.
The University of Aberdeen's School of Engineering is the latest organisation to join AFBE-UK, a platform for sharing ideas and supporting diversity and inclusion strategies. Other partners to sign up recently include the RAF, Subsea 7, Serica Energy and the Mercedes F1 team.
AFBE-UK Scotland provides mentoring programmes to support young people with their STEM careers. This includes its schools programme NextGen, where industry leaders and professionals give advice to pupils through entertaining events; Transition, where industry leaders help aspiring engineering professionals to enter the job market; and Real Projects, where industry professionals share their knowledge and expertise.
These programmes were usually carried out in person, however, they are currently taking place online due to the ongoing Covid-19 issues.
The AFBE-UK awards event was sponsored by the Royal Air Force, Kellas Midstream, Petrofac, EnQuest, BP, Leonardo, Spirit Energy, Shell, Schlumberger, Baker Hughes, Royal Academy of Engineering and IMRANDD.
Special Appreciation Award
Young BME Professional of the Year
Vanessa Burton, assistant engineer at Mott MacDonald (winner)
Thaddeus Anim-Somuah, engineering manager, projects at Croda (winner)
Mimi-Isabella Nwosu, assistant materials engineer at Sir Robert McAlpine
Company of the Year
IMRANDD (winner)
Baker Hughes (winner)
Spirit Energy
Outstanding Mentor of the Year
Helen West, head of operational excellence at Thames Water (winner)
Dr Philip Enegela, materials & corrosion engineering SME at Ineos
Susan Grayson, director, resourcing, talent, D&I and L&D at Spirit Energy
BME Leader of the Year
Lydia Balogun-Wilson, Clair Ridge operations support team lead at BP (winner)
Dr Ibiye Iyalla, academic strategic lead at Robert Gordon University
Tony Fong, engineering manager at Offshore Renewable Energy Catapult