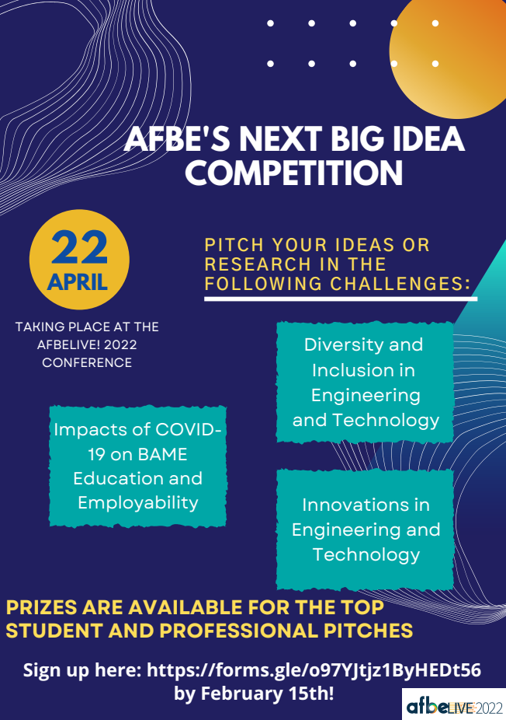 Do you have an idea that you'd like to take to the next level?
Then AFBE's Next Big Idea pitching competition is for you!
Submit your idea by February 14, 2022 and you could win prizes and mentorship sponsored by RS components and more!
The competition will take place in person on 22nd April 2022 at the IET Savoy Place in London, during the AFBELive! conference. It is the first even to celebrate the UK's diversity and inclusion in the engineering and technology fields. The event drives the dialogue, knowledge sharing, innovations and project developments around the Diversity and Inclusion in the Engineering and Technology Sectors. This competition is open to any entrepreneurial or academic ideas that you would like to present.
Submit an idea and you could win a prize towards the development of your idea as well as getting the opportunity to present your idea as a 3 minute pitch to Senior Business Leaders.
Pitches are accepted in any of the following three challenges:
1. Diversity and Inclusion in Engineering and Technology
This includes research or ideas exploring the impacts of diversity and inclusion on hiring practices, admissions, etc.
Possible topic areas include:
Strategies to improve diversity and inclusion in engineering and technology fields
Innovations in hiring practices to promote inclusion
2. Innovations in Engineering and Technology
Do you have some exciting research that you are working on in the lab that could use some more support? Is there a new product you have thought of but need help to actualise it?
Possible topic areas include:
Research findings that can shed a new light on fields like clean energy, health science, climate change, or any of the UN's sustainable development goals (SDG's).
New product ideas addressing any of the SDG's.
3. Impacts of COVID-19 on BAME Education and Employability
This category will highlight research relating to how schools and workplaces have been affected by or adapted to the COVID-19 pandemic.
Possible topic areas include:
How COVID-19 has shaped educational outreach
How COVID-19 has altered workplace or hiring practices
How COVID-19 has broadened or widened gaps in education for different racial groups
The three top student and three top professional ideas will be chosen from each category. Chosen ideas are invited to pitch their ideas to key decision makers actively leading their respective categories at the AFBELive! conference.
There will be £500 gift certificates available for the top student (undergraduate and graduate) pitches, sponsored by RS components. Winners of the professional stream will be matched with personalised entrepreneurial mentorship to bring their ideas to life!
Competition Timeline:
February 15, 2022: Entries due
March 15, 2022: Notices are sent to successful applications
April 22, 2022: Competition Date
Get Involved ASAP! Click the link below to share your amazing idea with us