Transitioning to the Manufacturing Industry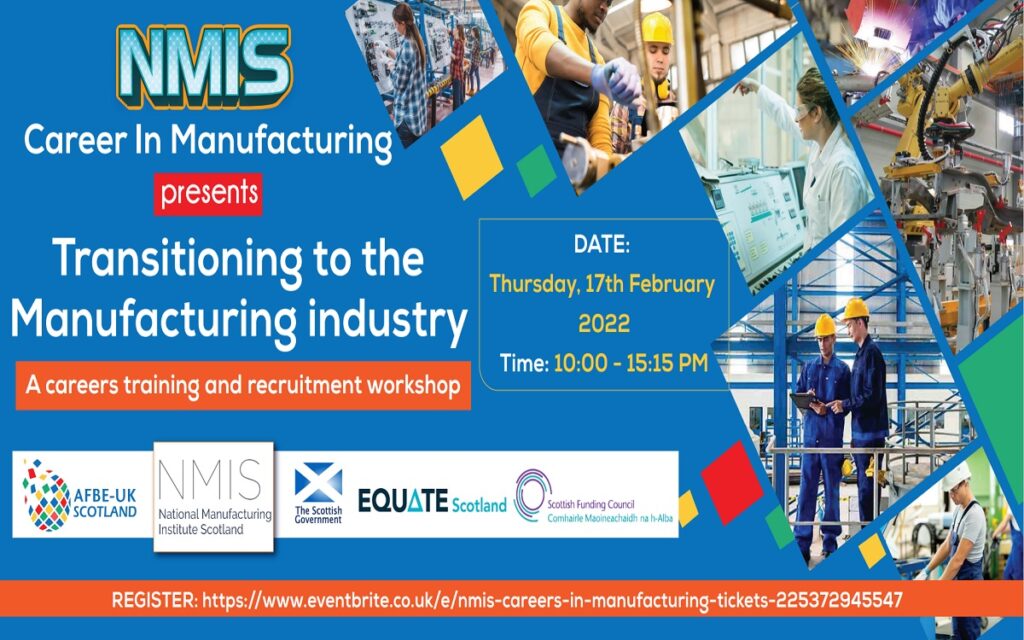 Picture this
You have the opportunity to work for a company like Diageo or Scottish Power and the Scottish government pays your wages for six months while you learn to use your transferable skills in a new sector.
Exciting isn't it?
AFBE-UK Scotland is partnering with two fantastic organisations, the National Manufacturing Institute of Scotland and Equate Scotland on a fantastic scheme.
This programme which also provides many more resources is available to anyone over the age of 25.
The opportunity is already helping many people, people like former Robert Gordon University Student, Mina Hanna
Get Involved…
The first of these online events will take place on Feb 17th from 10 am.
All you need to do is register for this event below.
Let's explain this again
You have an opportunity to be selected for the government-funded diversity in the workplace programme for the manufacturing industry. Whilst you gain work experience in the manufacturing sector, the Scottish government will pay up to 6 months of your salary in the company to which you are assigned.
Date: Thursday, 17th Feb, 2022
Time: 10:00 – 15:15 PM
Speakers: From across the UK Engineering and Manufacturing industries
Register:
https://www.eventbrite.co.uk/e/nmis-careers-in-manufacturing-tickets-225372945547
See you there!