UPCOMING EVENTS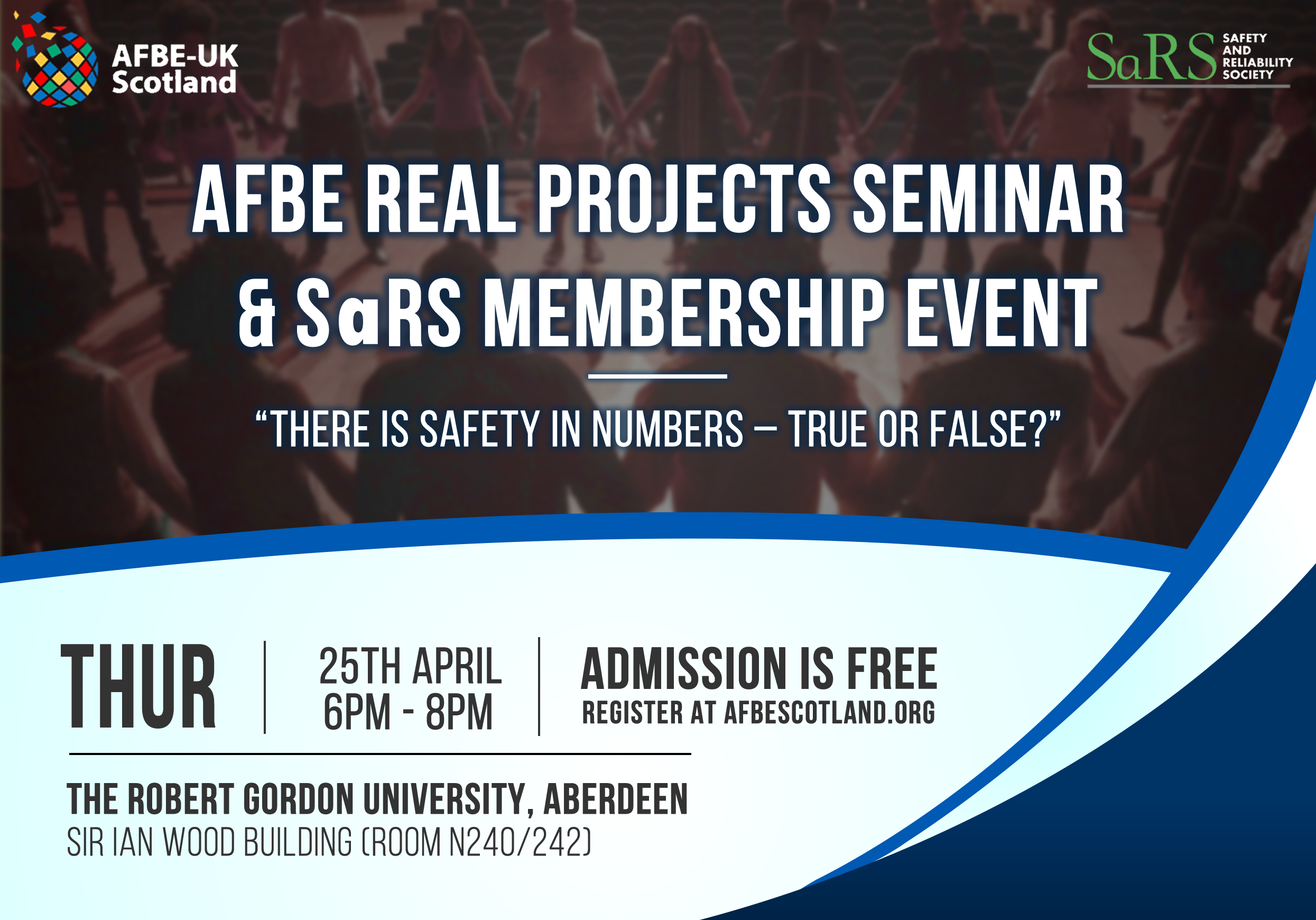 Description
At this next round of our Real Projects series, we are collaborating with the Safety and Reliability Society (SaRS) to bring you this joint seminar and SaRS membership event, titled: 'There is Safety in Numbers – True or False?'. The seminar will be presented by no less than the current Chair of the Safety & Reliability Society, Dr Emma Taylor CEng FIMechE FSaRS
About the Talk
The Talk will feature interactive discussions around:
– Where do the challenges lie in achieving safety?
– What is the broader picture around the technical assessment of risk (vis a vis Quantitative vs Qualitative risk assessment) that informs the ALARP demonstration?
– What do we need to know in order to manage risk? What do we not yet know?
Personal quote from Speaker:
"As Chair of the Safety and Reliability Society, I am thrilled to have the opportunity to engage directly with the AFBE community in Aberdeen and share the best of what we do, our thinking …Quantitative Risk Assessment is a mainstay of many high hazard industries. But is it always the most suitable way to build an ALARP argument? Building on the experience of our expert Safety and Reliability Society community, this event will set out the arguments for QRA, and against. Expect lively discussions, differing views and an interesting debate."
SaRS Membership
There will also be a team from the SaRS membership committee at the event who will be taking applications from any interested in joining the Society. This represents a rare opportunity for anyone working in engineering from any relevant background who is considering joining SaRS and becoming registered with the Engineering Council for CEng or IEng to meet the SaRS membership team. SaRS offers a unique and supportive mentoring service, providing feedback to CEng candidates. Membership applications will be assessed on the day and information about the pathway to Chartership and other benefits will also be given.
As always, attendance at this event is free, but do register using the link provided. Also, for anyone wishing to join SaRS as an Associate member, member or Fellow, please bring along:
1) The completed and signed first page of the application (available at: https://www.sars.org.uk/wp-content/uploads/appmember2016-v1.docx)
2) A comprehensive CV showing evidence that you meet the membership criteria, initialled by your sponsors as appropriate.
For any clarifications (e.g. who can be my Sponsor? what sort of experience counts? etc) please contact either of the following:
Jibril Okin CEng, MSaRS – 07920100282; jibrilokin@hotmail.com
Kasi Usani CEng, MSaRS – 07943861545 kasi_usani@yahoo.com
Speaker Profile
Dr Emma Taylor is the National Chair of the Safety and Reliability Society. Emma graduated from the University of Oxford in 1993 and the University of Aberdeen's MSc in Safety Engineering in 2008. She is a Chartered Engineer with over 30 years of STEM experience, in Aerospace, Oil & Gas and Rail.
Emma's specialities include: working as a technical diplomat for the advancement of safety through system safety engineering, risk analyses, regulatory assessment, and standards. She is also an experienced, innovative and engaging mentor.
Emma is currently listed in the Telegraph Top 50 Woman Engineer and has won or been finalist at various Awards, including: WISE Woman in Industry, TechWomen100 winner, and the Venus award for Professional Excellence.
Please register for this event here.