UPCOMING EVENTS
The AFBE-UK Scotland Gala Dinner and Awards celebrates the impact of AFBE-UK on the engineering landscape and our contributions to diversity in the industry over the last 11 years in the UK and 7 years in Scotland.
This black-tie event brings together business leaders, government officials, professionals and students for an evening of inspiration, celebration, networking and multicultural entertainment.
The event which will begin with a drinks and networking reception. It will also include a keynote address from Deirdre Michie, CEO Oil and Gas UK, a three-course meal accompanied by wine and soft drinks, and the AFBE-UK Scotland Awards recognising individuals and organisations making a significant contribution to the engineering industry in Scotland.
Guest Speaker
Deirdre Michie was appointed CEO of Oil & Gas UK in May 2015. She has an LLB Hons in Scots Law and has extensive experience as a senior business leader in the oil and gas industry covering upstream, downstream and globally. She is a member of MER UK – a government and industry forum – and is also on the UK Treasury's Oil Industry Fiscal Forum. Deirdre is a board member of Opportunity North East, a non-executive board member of Scottish Water and chair of Common Data Access Limited. Deirdre is also a member of the Women's Business Council – a UK Government body focused on increasing women's contribution to economic growth – and is also sponsor of AXIS. In June 2018 she was recognised as part of the Queen's Birthday Honours for her services to the industry and made an OBE.
Before joining Oil & Gas UK, Deirdre worked for Shell's downstream operations in various roles before moving to Shell's upstream operations as a senior commercial negotiator. Her next roles were as external affairs manager for Shell's UK upstream operations and communications manager for its European business, contracting and procurement manager for Europe, and from 2011 to 2013 she managed a global team delivering a multi-billion annual strategic sourcing programme.
Deirdre is married with two sons and enjoys reading, cycling, skiing, running, watching ballet and rugby.
Note: Early Bird Ticket sales end on 30th September 2018.
Register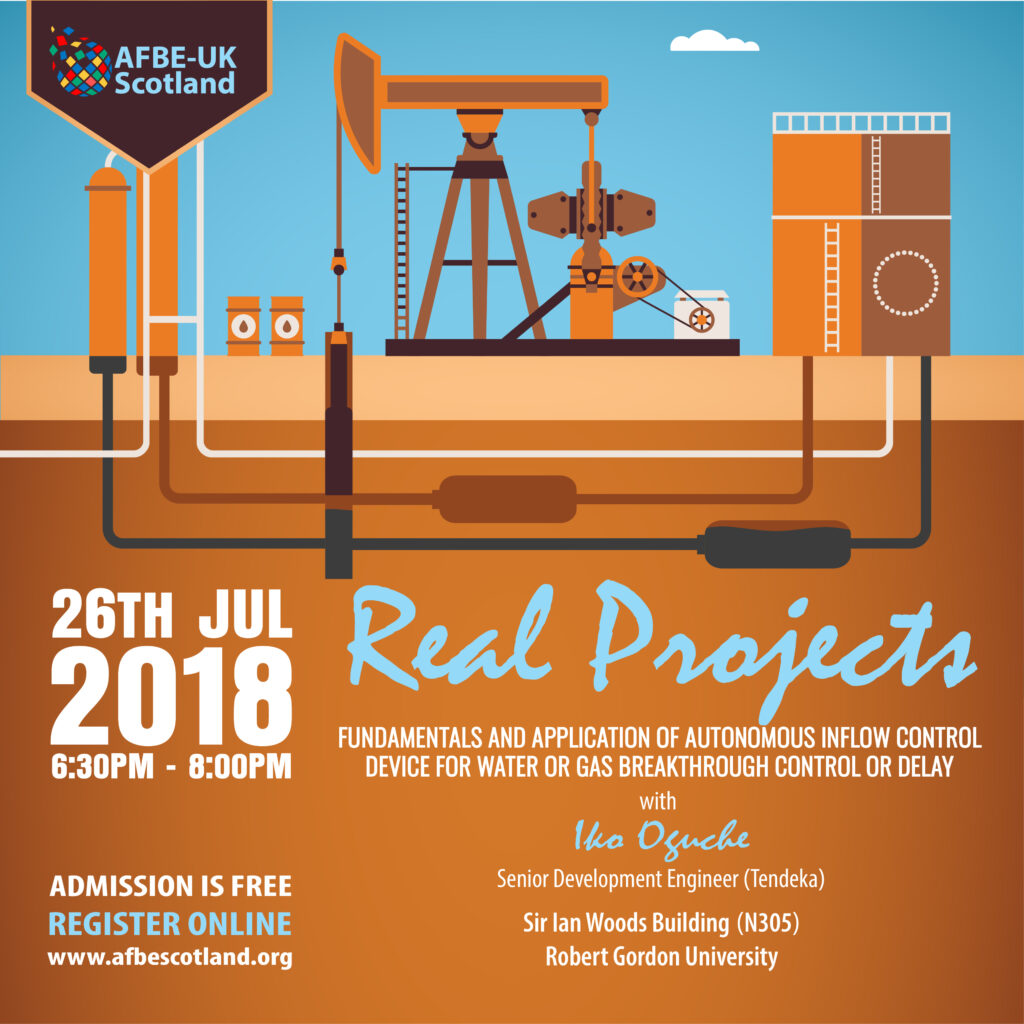 Join us at this Real Projects event as we discuss the fundamentals and and application of Autonomous Inflow Control Devices (AICD) for water or gas breakthrough control or delay in oil wells.
Scope of Presentation:
– Overview of flow control with ICDs and AICDs
– Advantages of AICDs over ICDs for limiting the effects of gas and water breakthrough
– Case studies of gas and water control showing the application of AICDs in real wells
Guest Speaker
Iko Oguche is a Senior Development Engineer with experience in downhole monitoring within the oil and gas industry, a large part of which has involved distributed fibre optic sensing. He joined Tendeka in 2011 and has been influential in the design of modelling tools and analysis of down-hole flow control components for optimized production.
Register