UPCOMING EVENTS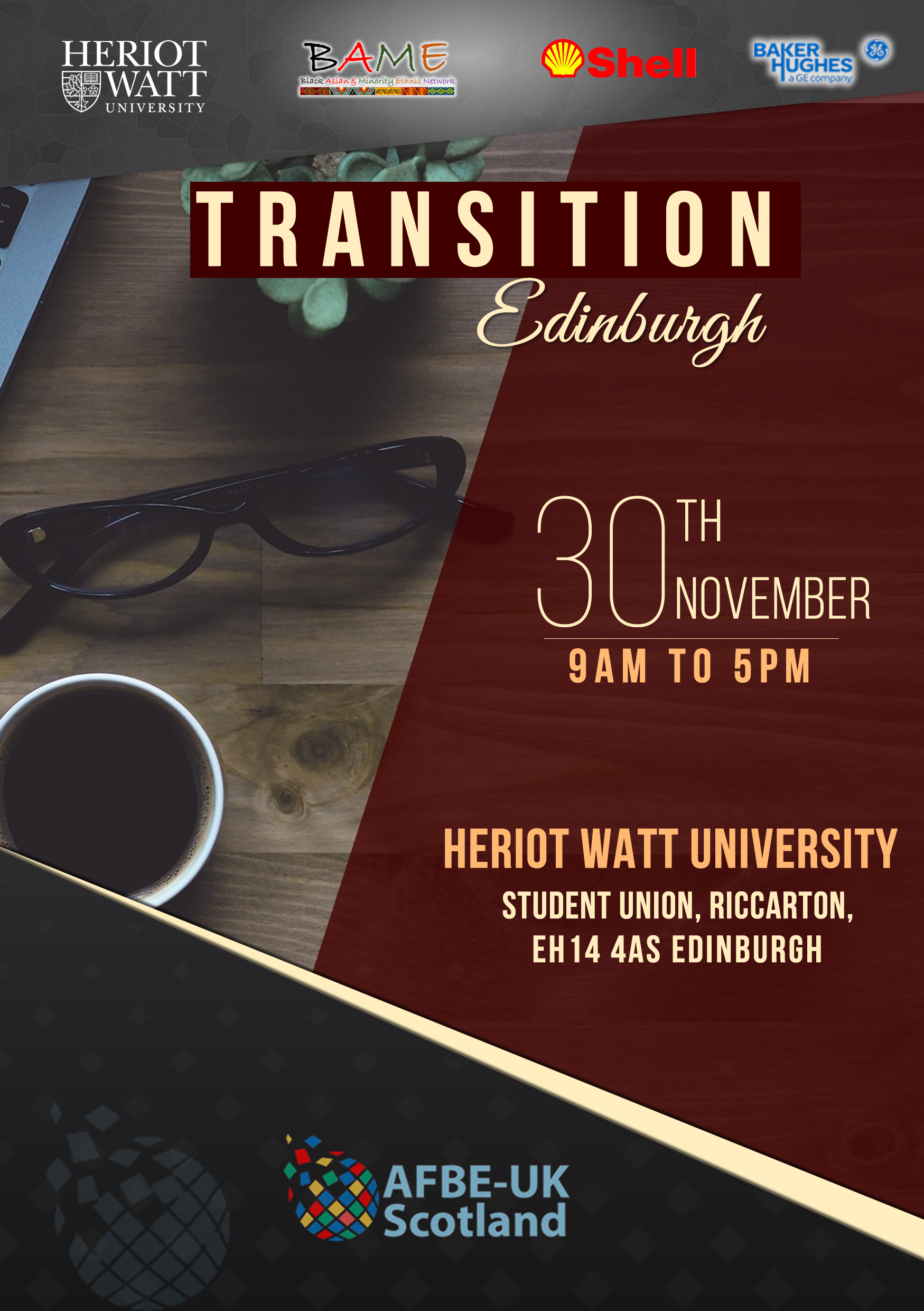 Dear students and recent graduates,
please join us at our most successful event for students, the AFBE Scotland Transition Careers Event in Edinburgh: A full day of free food, job hunting activities, mentoring, CV clinic and mock interviews!
Transition is a career workshop designed to equip students and recent graduates with the skills required to scale through the employment process and secure jobs at the most sought after companies.
The Transition programme was initiated by AFBE-UK in Aberdeen in 2012 and has since been very effective in equipping over 2500 mentees with the tools they need not just to get into the workplace but to thrive!
According to a survey carried out in 2016, 70% of people who have attended the Transition programme secured a job in a relevant role within 12 months for reasons directly attributable to the Transition programme. Over 90% said it made them more confident in interviews.
Attendees will listen to an inspiring talk titled "My Transition Story" by a successful professional at this event. The event will also include a CV review session, mock interviews and an assessment centre. Its also a great event to network with industry professionals.
Lunch will be provided on the day.
This event is open to anyone who needs support to get into work. You do not have to be an engineer or of BME origin to attend.
If you are interested in attending this event, email a copy of your CV to afbescotland@gmail.com with the title Transition Edinburgh and register on Eventbrite (below).
Date, Time and Location
Saturday, 30 November 2019 from 09:00 to 17:00 (GMT)
Edinburgh, United Kingdom
Book your free place here!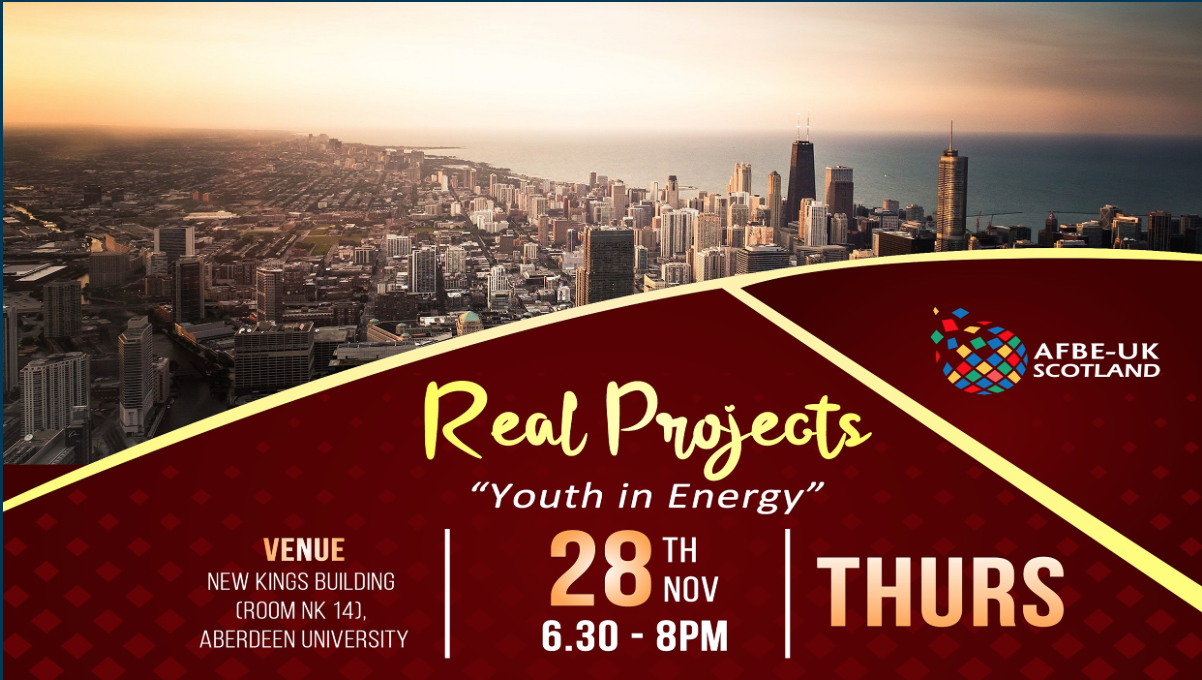 AFBE Real Projects brings you our November presentation, titled: 'Youth in Energy', to be delivered by Dr. James Mullins PhD.
James Mullins recently attended a 3-month long virtual academy in Energy that also included a Gas Forum for engineers and scientists, which took place in the Russian city of St. Petersburg. Participation at the programme followed a rigorous application and assessment process from which participants were selected (similar to the renowned AFBE UK 'Transition' event – but far more involved, shall we say!).
The virtual academy and Gas Forum involved carrying out several exercises including executing hypothetical projects such as 'smart drilling', power generation for domestic use, etc which amongst other things required participants to forge collaborations with real life companies and top industry professionals towards reaching Final Investment Decisions (FID) on their projects. The programme also featured panel debates amongst participants on selected energy topics.
In this presentation James will be 'downloading' his experiences at the virtual academy and the Gas Forum, and giving insights on how young engineers and scientists can apply for and win a place at this very competitive programme in future.
The Talk will cover areas such as:
How to successfully apply for a place at the academy and the gas forum;
Technical contents of the programme, including exercise and activities carried out;
Lessons learned from the programme;
Benefits of attending the programme, including:
Research and knowledge in the energy industry
Communication with highly skilled and motivated peers and high-level international experts
Presentation and professional skills
Career opportunities in a range of sectors
This presentation would benefit young engineers and scientists hoping to gain the insights required to potentially fast-track their careers into leadership positions in the energy industry, especially within the context of the 'Energy Transition' that is picking up pace across the world.
As always, the Talk will feature an interactive Q&A session, networking and refreshments.
Attendance is free but prior registration is required.
About the Speaker
Dr James Mullins is an award winning geoscientist based in Aberdeen. After graduating from the University of Birmingham with an MSci in Resource and Applied Geology in 2013, James started his postgraduate studies at the University of Aberdeen using reservoir analogues to improve conditioning data input parameters for subsurface reservoir modelling. He h​as industry experience with Total Exploration and Production UK and DEA Wintershall. Having graduated from his PhD in 2019, he is currently working as a geomodelling consultant in Aberdeen. 
Outside of work, James is member of AFBE UK-Scotland, a fair weather sports fan and enjoys travel, photography and scuba diving.
Time, Date and Location
Thursday, November 28, 2019 from 6:30 PM – 8:00 PM. New Kings Building (Room NK14), The University of Aberdeen.
Please sign up for the event here.
PAST EVENTS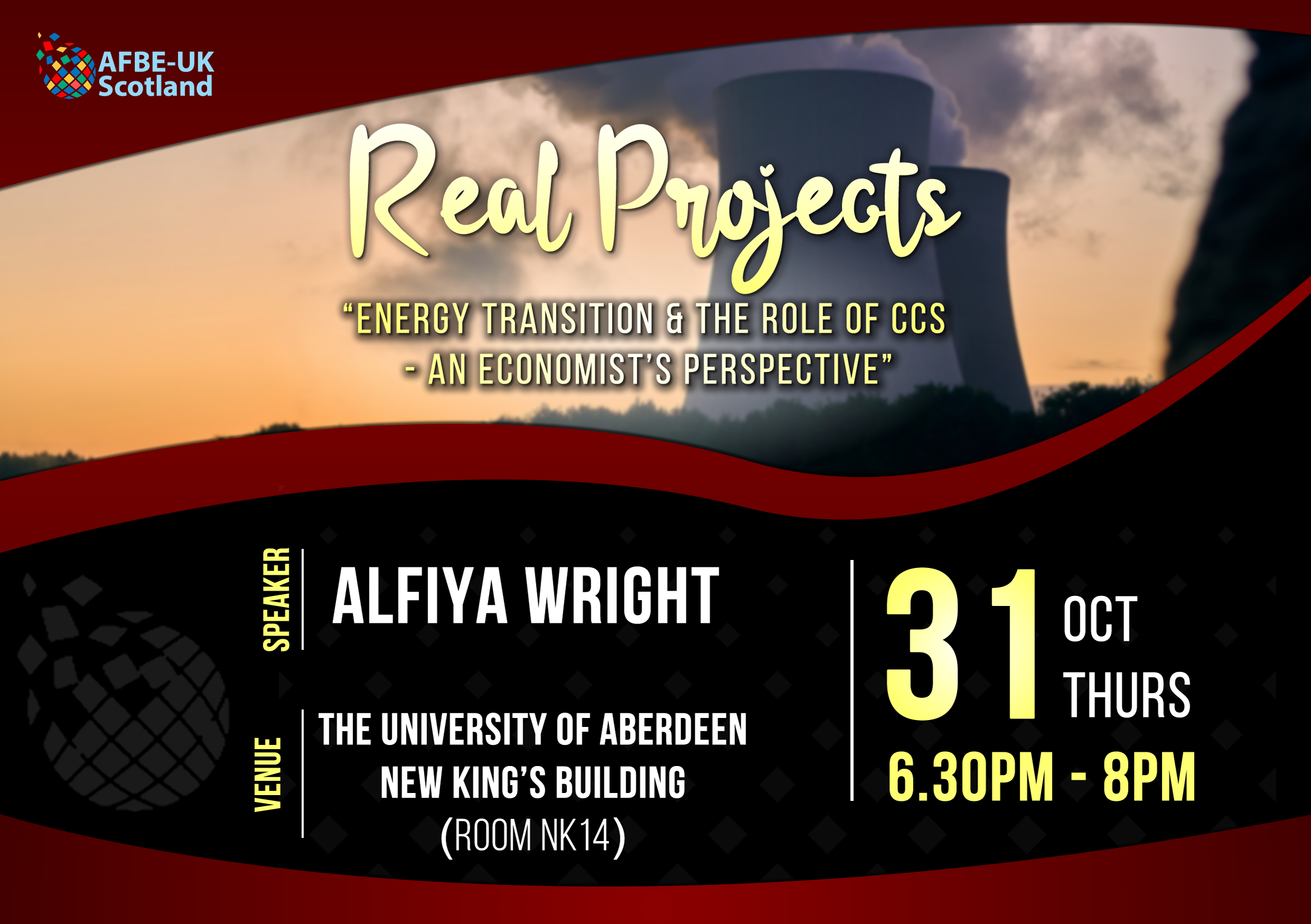 Global warming and energy transition are the topical issues of the day, with the UK government setting a new target of ending its contribution to global warming by reaching net zero emissions by 2050 from 1990 levels.
Carbon capture, utilisation and storage (CCUS) is proposed as one of the six technology options that can be used to reduce net anthropogenic CO2 emissions to the atmosphere.
This presentation will discuss the main issues relating to CCS and touch upon the economics of this industry as well as address some commonly held misconceptions. The presentation will cover the following:
 What is CCS technology and its role in the energy transition mix?
 CCS history in the UK and the World
 The cost of technology vs other options
 Should we skip CCS and switch to renewables directly?
 The economics behind CCS – Who should pay for it?
 Challenges of CCS deployment and ways of enabling CCS
About the Speaker
Dr Alfiya Wright is an economist with a doctorate in the Economics of Carbon Capture and Storage(CCS). Her research interests lie in Carbon Capture and Storage (CCS), energy economics and energy transition, and low carbon technologies. Alfiya has several years' engineering and management experience working on different oil & gas projects. While working in the offshore oil and gas industry in Norway, she undertook a variety of projects for major companies, such as Siemens, Maersk, Statoil, and ConocoPhillips. She has also worked in a S&P 100 company as a marketing manager, and as a lecturer and course coordinator at the University of Aberdeen.
Alfiya's day job is as a consultant for Pale Blue Dot Energy, the project developer of the Acorn CCS and Acorn Hydrogen projects. She is a personal development consultant and provides management consultancy services to organisations.
Outside her work, Alfiya is also the Business Development Director for the Kazakhstan PhD Association (www.kpauk.org), a non-profit interdisciplinary organisation of Kazakhstani PhD researchers in the UK, facilitating collaboration between scientists of the two countries.
Date, Time and Location
Thu, 31 October 2019
18:30 – 20:00 GMT
New Kings Building (Room NK14)
The University of Aberdeen
Aberdeen, United Kingdom
Event tickets
Please sign up for this free event here: https://www.eventbrite.co.uk/e/energy-transition-the-role-of-ccs-an-economists-perspective-tickets-77453299905